London's Underworld Unearthed: The Secret Life of the Rookery
'A unique exhibition. Amid the historical references and works are new paintings by Jane Palm-Gold, that create a sense of the world trembling before you and capture the seedy underbelly of St. Giles past and present…'
Tiffany O'Callaghan
Culture Lab, New Scientist
Fascinating exhibition with wonderful and elaborate detail and imagery. So much work must have gone into this.
Jim & Mary Foley
Exhibition visitors, Coningsby Gallery
Jane Palm-Gold is a fascinating trans-disciplinary artist and researcher. Her accessible – but sophisticated – work is engaging and makes us think again about the places we thought we knew.
Professor Hilda Kean
Joint convenor, Public History Group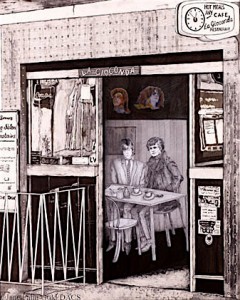 My work is currently focusing upon London history, our sense of place – and the great pace of change within the city. This work can be found in the individual galleries for Regeneration City Blues and London's Underworld Unearthed: The Secret Life of the Rookery.
I generally work in drawing and collage, yet I create other work too and you can see the range of this in my Gallery: Artist section.
If you are interested in my work and would like to commission a painting, please contact me via my Contact Me page or email me at jane@janepalmgold.com
Royal College of Art, DACS, Artists Information Company, Artquest, Londonist.
BBC News Online, BBC Radio Robert Elms Show, Independent, Guardian, Positively UK