BIBA, the iconic store that was once in Kensington High Street has achieved a certain mythical status in London fashion lore…
I never visited there but I am delighted to recommend a wonderful exhibition currently running at Southend's Beecroft Art Gallery & Museum, BIBA: The Fashion. The Lifestyle. The Brand. 
Expertly curated by Ciara Phipps and sourcing BIBA ephemera from collector Adam Keppel, it certainly captures the essence and spirit of the shop and the early 70s, a very colourful and creative time in music and fashion, despite strikes, three-day weeks and the blackened, grimey streets of the capital.
BIBA had humble beginnings. It was set up in 1963 by fashion illustrator Barbara Helanicki and partner Simon Fitz-Simon, initially as a mail order business and borne out of a desire to create affordable fashion for all. The business grew to eventually become an aspirational brand, encompassing clothes, homewares, health and food, a brand which promoted a BIBA lifestyle aimed at teens and young people of the 60s and 70s.
An early success came in the form of a feature in the Daily Mirror (1964). This promoted a gingham shift dress and headscarf which were an immediate hit and moved the developing business up a gear, when initial orders of 500 grew to 17,000.
BIBA was on it's way to becoming an iconic brand.
During the years 1964-69, BIBA was at 19-21 Kensington Church Street and success there led to them establishing the store on a much grander scale at 120 Kensington High Street (1969 – 1973).

Yet the infamous Rainbow Room was a feature within BIBA at it's next location, 99 – 117 Kensington High Street. This location this boasted the legendary Roof Garden…
The Rainbow Room opened in 1933 and was immediately an Art Deco classic interior. Forty years later, BIBA revived and restored the room to it's previous splendour, creating a restaurant and a live music venue – the New York Dolls performed an early influential pre-punk gig there. Other featured artists were Cockney Rebel and the Ronettes.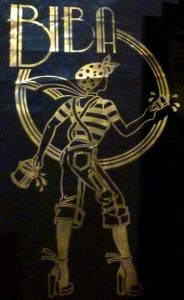 I do urge you all to visit the exhibition. I found it enormously informative and beautifully displayed with typical BIBA spirit and style!
More information can be found here:
www.southendmuseums.co.uk/whats_on/event/BIBA-The-Fashion.-The-Lifestyle.-The-Brand